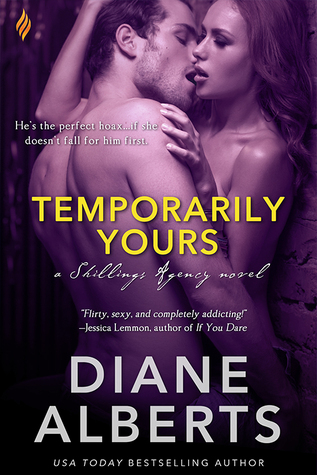 Temporarily Yours (Shillings Agency #1) by Diane Alberts
Published: February 3rd, 2014
Publisher: Brazen (Entangled Publishing)
A sexy category romance from Entangled's Brazen imprint...

This marine's the perfect hoax…if she doesn't fall for him first.

Stats whiz Kayla Moriarity knows her way around numbers and algorithms. Men, on the other hand, are unsolvable equations. Now Kayla's en route to her sister's wedding—alone and without the fictional boyfriend she invented for her family. Fortunately, her plane comes complete with complimentary cocktails and a ridiculously hot ex-marine in the seat beside her. And that's all it takes for Kayla's inhibitions to go sailing out the airlock...

Cooper Shillings has soft spot for people in trouble, but he certainly wasn't expecting to land in it himself—and definitely not while getting naughty mid-air with a sexy southern belle. When he hears Kayla's predicament, however, he offers his services as a stand-in boyfriend. After all, he's heading overseas soon...and how could he refuse a little no-strings wickedness?

It's the perfect plan. And all Kayla has to do is ensure her family falls for the ultimate bluff, without falling for it—and Cooper—in the process...
Short. Sexy. And super fun!
If you are anything like me, you went to a family gathering and suffer the inevitable question of "When will you finbd yourself a good man?" from someone... and it sucks! And Kayla is in the same predictment... her family is driving crazy so she makes up a boyfriend. It's a solid plan when lives in another city, but at her sister's wedding is hard to explain why her perfect boyfriend can't be there...
Cooper is running. From his past, his mistakes and his family. But he's the kind of guy who always help those in need, so when he meets a terrified-of.flying certain beauty, he can't help but offer to help her with her fears and her family.
This is a fast paced, steamy romance.
The connection between Kayla and Cooper is there from the start and Diane Alberts pulls you right in. I loved how she managed to keep the tension going through the book. And watch how both characters just let themselves fall into the story although they were somewhat scared.
Temporarily Yours will take you in a fast emotional ride (Brazen's book speciality). Diane Alberts makes a great job in this story and will leave you wanting more of this hot military men trying to find a place in the world.
ABOUT THE AUTHOR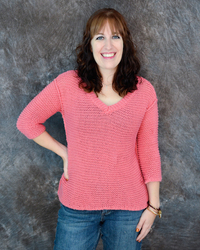 Diane Alberts is a USA TODAY bestselling Contemporary Romance author with Entangled Publishing. Under the name Jen McLaughlin, she also writes New York Times, USA TODAY, and Wall Street Journal bestselling books with Penguin RandomHouse. She was mentioned in Forbes alongside E. L. James as one of the breakout independent authors to dominate the bestselling lists. Diane is represented by Louise Fury at The Bent Agency.
Diane has always been a dreamer with a vivid imagination, but it wasn't until 2011 that she put her pen where her brain was, and became a published author. Since receiving her first contract offer, she has yet to stop writing. Though she lives in the mountains, she really wishes she was surrounded by a hot, sunny beach with crystal clear water. She lives in Northeast Pennsylvania with her four kids, a husband, a schnauzer mutt, and three cats. Her goal is to write so many fantastic stories that even a non-romance reader will know her name.