Carrigan O'Malley has fallen in love with family enemy #1, James Halloran and he has absolutely no intention of letting her get away. THE WEDDING PACT is the second book in a smoking-hot series about the O'Malleys—wealthy, powerful, and full of scandalous family secrets from New York Times Bestseller Katee Robert and Forever Romance.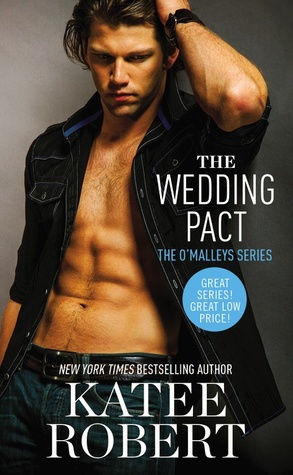 THE WEDDING PACT (The O'Malley Series #2)
Genre:
Contemporary Romance
Release Date:
April 26, 2016
Publisher:
Grand Central Publishing- Forever
Carrigan O'Malley has always known her arranged marriage would be more about power and prestige than passion. But after one taste of the hard-bodied, whiskey-voiced James Halloran, she's ruined for anyone else. Too bad James and his family are enemy number 1.
Hallorans vs. O'Malleys—that's how it's always been. James should be thinking more about how to expand his family's empire instead of how silky Carrigan's skin is against his and how he can next get her into his bed. Those are dangerous thoughts. But not nearly as dangerous as he'll be if he can't get what he wants: Carrigan by his side for the rest of their lives.
Oh wow, this book had me at the edge of my seat all the time! Katee Robert wrote such a wonderful, thrilling and compelling story I couldn't get away.
Carrigan has manage to live her life pleasing her father but away from marriage. She always knew the time would come and that the choice wouldn't be hers but when that day finally comes she's no ready. She loves her wild nights out whereshe can be herself and not an instrument in her family's game of power.
James has never wanted to be in power. Actually, he always wanted to get away and become as diferent from his family as he could, but wishing is useless now that he's the new head of the Hallorans.
The Wedding Pact is like an action movie of Romeo and Juliet. Three families compete for power in the streets of Boston. Each with a territory and all wanting more. All walking slowly and carefully with a war and a pace agreement that won't hold much longer. The Hallorans and the O'Malleys hate eachother the most. And considering James kidnapped Carrigan a few months before they don't like each other very much but their atraction is undeniable.
I loved how they relationship evolved with time. They met by chance and then it was just about doing something that was forbidden. The risk and excitment. But they see themselves inn the other.
Carrigan and James are trapped in their realities, both prisoners of their families past and wishing they could be something more than criminals.
They fight and scream. Constantly torn between their hearts and whats right by their family code. How much are they willing to risk to get their own happiness?
The Wedding Pact is a roller coaster of emotions. These characters are so much more than what you see in the first page. Katee Robert managed to make the reader feel as conflicted as the characters by portraing their feelings in such a realistic way.
You can't miss this book and the rest of the series to see what happens in Boston and how this families adquire their power.
Meet the O'Malley family in book one of the O'Malley series, The Marriage Contract: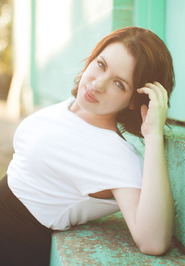 About Katee Robert
New York Times
and USA TODAY bestselling author Katee Robert learned to tell her stories at her grandpa's knee. She found romance novels at age twelve and it changed her life. When not writing sexy contemporary and speculative fiction romance novels, she spends her time playing imaginary games with her wee ones, driving her husband batty with what-if questions, and planning for the inevitable zombie apocalypse.