People rarely try to pick me up. Perhaps it's my sarcasm, or my really loud voice, or the wedding band on my finger. In truth, I had to make the first move to grab my now husband's attention.
We'd been friends in high school and had spent a summer before college hanging around each other every single day. It was obvious we liked each other, but the friendship was so strong I didn't want to screw it up but pushing for anything more. I'm sure he felt the same way...maybe?
Anyway, it was now August and as much as friendship is great, I wanted a bit more. I'm sure he did too, but was bashful. So to make a long rambling story shorter and less rambling, I asked him for some Chapstick after he'd put some on (he was a hunky lifeguard and needed to protect his skin). Instead of taking it from his hands, I took it from his lips with my own lips. Things progressed very well after that!
Taking his own sweet time in everything he does, we married seven years later and will be together over twenty years on our anniversary.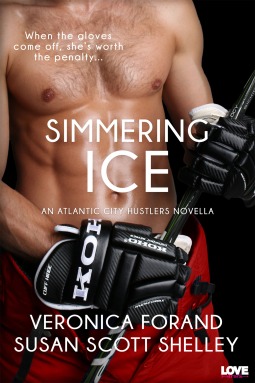 Simmering Ice
When the gloves come off, she's worth the penalty…
Physical therapist Annie Davidson is great at her job but unlucky when it comes to love. She's just out of a bad relationship. A really bad relationship. All she can do is focus on work…that is until she runs into professional hockey player Alec O'Meara. She's a touch insecure and doesn't understand why he's interested in her.
Despite being one of the biggest players on the team, right wing Alec O'Meara prefers finesse over force. After the tragic death of his wife, he likes to keep things loose on and off the ice. But the red-headed Annie challenges his beliefs and makes him think about taking their relationship to the net.
The passion and fun they share is addicting and makes them long for more. But her insecurities that she's not good enough, and his anxiety over a long-term commitment will keep them apart, unless they can find a way to break through the defenses they've built around their hearts.
Read Chapter One
Here
About the Author

Veronica Forand is an attorney and an award-winning writer of romantic suspense. She's lived
in Boston, London, Paris, Geneva, and Washington, DC and currently resides near
Philadelphia. An avid traveler, she loves to roam across continents with her husband and kids in
pursuit of skiing, scuba diving, and finding the perfect piece of chocolate.
Barclay Publicity's Summertime eReader Giveaway!
More than 20 authors will be sharing their best and worst pick-up lines during this EPIC eReader Giveaway! Win dozens of prizes, including swag packs, print or eBooks, gift cards, tote, posters, themed prizes, etc...and of course, a grand prize of four (4) eReaders!
Win one of four (4) eReaders including:
Two 7" Kindle Fire Tablets
+ tons of runner-up prizes
Want to meet up with our author sponsors? Join the fun at the Summertime eReader Giveaway event page on Facebook! Authors will be making appearances on the day of their posts so be sure to pop by and say hello.
Are you ready to enter-to-win? Follow the giveaway stops for your chance to win one of these amazing prizes here:

Summertime eReader Giveaway!