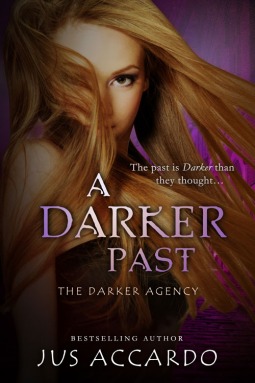 A Darker Past (Darker Agency, #2) by Jus Accardo
Published: 11/11/14
Publisher: Entangled Teen
The past is Darker than they thought...
Between helping her mother with the Darker Agency and laying the smack down on monster baddies, Jessie Darker puts the "normal" in paranormal. But lately, things have gotten a little crazy...even for a smart-assed half-demon teenage girl.
For starters, Jessie's been contracted into fifty-five years of annoying servitude. To a demon.
Then there's Lukas Scott, her sexy new boyfriend. Once the former incarnation of Wrath, he's been going through some...uh, changes. Like residual anger. And trading chaste hangouts for lusty make-out sessions.
But it's when Lukas and Jessie accidentally release a Very Nasty Demon that things get really bad, setting into motion a chain of death and mayhem that threatens both Earth and the Shadow Realm. Jessie has exactly four days to fix it...before all of Hell breaks loose.
Move over girls, Jus new book is out! Jus is one of my favorite authors, her books always make me laugh, cry and sit at the edge of my chair waiting to see what happens next. I can happily tell you that Darker Past didn't disappoint one bit.
Jessie is back and almost better than ever... because you know, she now has to serve a demon for the next 55 years. But she has her boyfriend, her witch best friend is learning new tricks and her parents can finally be together. So life is looking good until a mirror breaking frees a demon and things get nasty!
I loved how Jus kept the characters voices true to themselves in this sequel. Jessie is a strong character you can do things on her own, while impulsive at times she takes the time to make the hard choices with a cool head. And best of all? she's not afraid to ask for help. Her snarky comments and humor kept me reading and laughing all day. I couldn't put it down.
Lukas is back and more swoon worthy than ever. Turning into a demon has its complications though, and is not easy to handle.
The relationship between Lukas and Jessie is great. The chemistry from the first book is still going strong but they face some problems along the way that takes it to another level.
I love how the secondary characters, like Jessie's parent, play such an important role in the plot and help the story move forward. Even Valefar, the demon owning Jessie is a great fun addition. His habit of popping out of nowhere and in the middle of any situations creates some pretty funny moments. (Is it wrong that I like the bad guy?? He's kinda awesome with his mercurial temper)
The ending though.... yeah I might have to stalk Jus and ask for more soon... Like right now!
About Jus Accardo
JUS ACCARDO spent her childhood reading and learning to cook. Determined to follow in her grandfather's footsteps as a chef, she applied and was accepted to the Culinary Institute of America. But at the last minute, she realized her true path lay with fiction, not food.
Jus is the bestselling author of the popular Denazen series from Entangled publishing, as well as the Darker Agency series, and the New Adult series, The Eternal Balance. A native New Yorker, she lives in the middle of nowhere with her husband, three dogs, and sometimes guard bear, Oswald.