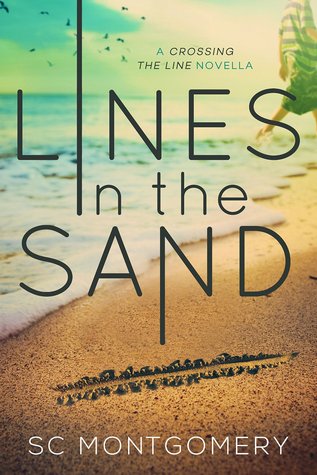 Lines in The Sand ( Crossing The Line Precuel) by S.C. Montgomery
Published: October 10, 2014
Two best friends. One emotional adventure.
When Reed Young and Jonah King unearth some mysterious remains at their favorite beach hangout, their summer is thrust into an exciting tailspin.
Determined to get to the bottom of the mystery, they embark on a heartrending journey to find out the truth . . . and make it right.
But neither of them expected the secrets they would find.
***Reader note***While Lines in the Sand is a standalone novella, appropriate for younger readers, it is intended as a prequel to Two Blue Lines, which continues Reed Young's story as he's forced into a situation nobody wants to find themselves in at sixteen. Read and enjoy at your own discretion.
Lines in the Sand was a cute novella, that gives you the same feel good emotions as a Hallmark movie.
If you read Lines in the Sand on it's own, it's perfect, but when you think of it in terms of a novella that's a prequel to another book, it has my mind spinning.
After reading this novella the first time, I started to think about it as a prequel and it has me curious.
How does this novella relate to Two Blue Lines? Does Reed get his crush? Does Lettie have more importance in the novel?
Lines in the Sand is a great standalone novella to read on a rainy day. This book has me itching to read more of Reed's story though, so it's also a teaser of what's to come.
About S.C. Montgomery
SC Montgomery is a self-proclaimed nerd and readaholic. She has dabbled in telling stories since she was very young by letting her imagination play out with her Barbie dolls and her bestie many a weekend.
She also writes Contemporary adult romance under the pen name Shauna Allen, and it was in one of those novels that the YA bug bit when she wrote in a teenager loosely based on her own son. Her first story,
The Summer of Lettie, was penned as a gift for her mother, but was published with her blessing, and it's just taken off from there.
SC is married with three teenagers of her own, who give her plenty of inspiration and advice, and are a constant source of laughter and new terminology. Besides writing, she loves reading, movies, singing and dancing reality shows and going to the beach.