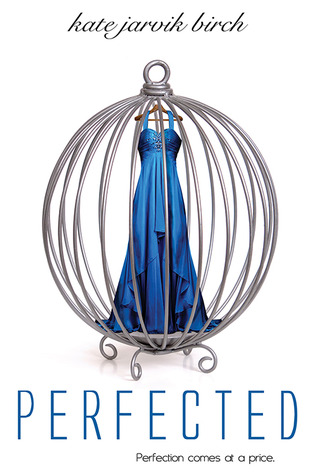 PERFECTED BY KATE JARVIK BIRCH
Published: July 1st, 2014
Publisher: Entangled (Teen)
Perfection comes at a price.
As soon as the government passed legislation allowing humans to be genetically engineered and sold as pets, the rich and powerful rushed to own beautiful girls like Ella. Trained from birth to be graceful, demure, and above all, perfect, these "family companions" enter their masters' homes prepared to live a life of idle luxury.
Ella is happy with her new role as playmate for a congressman's bubbly young daughter, but she doesn't expect Penn, the congressman's handsome and rebellious son. He's the only person who sees beyond the perfect exterior to the girl within. Falling for him goes against every rule she knows…and the freedom she finds with him is intoxicating.
But when Ella is kidnapped and thrust into the dark underworld lurking beneath her pampered life, she's faced with an unthinkable choice. Because the only thing more dangerous than staying with Penn's family is leaving…and if she's unsuccessful, she'll face a fate far worse than death.
For fans of Keira Cass's Selection series and Lauren DeStefano's Chemical Garden series, Perfected is a chilling look at what it means to be human, and a stunning celebration of the power of love to set us free, wrapped in a glamorous—and dangerous—bow.
Every once in a while you come across a perfect book and you fell in love completely. It's fast, it's effortless and is wonderful. This was the case with
Perfected
.
Discovering the world through Ella's eyes is a whole new thing. She is so innocent and sweet that you only want to keep her locked up in the perfect bubble she was raised and never let her experience the cruelty and hard reality of the world. While at the same time, you want her to be free and wild and go out there and see everything.
Perfected
brings out so many feelings in you. In a way, it made me fear for the future of human kind. I mean, how off does it looks to you that in a future rich people will want to have the most exclusive pet created? To have humans created and raised to be the perfect little pets?
Kate Jarvik Birch really did an amazing job bulding this new world. So beautiful from Ella's eyes and so creepy for the reader you can read between the lies.
Perfected
will make you angry with the concept of human pets. It will disgust you with the possibilities men can have for this naive creatures. Most of the time, Ella is not aware of the reality and implications of these situations.
What I feel is more amazing, is how kate manages to make Ella such a vulnerable and naive character who you will love no matter what. Something not so easy to do among all the strong and independent female characters.
Ella is supposed to be theperfect little pet for her new owners, she smiles and listens, she doesn't have an opinion. Her whole purpose in life is to make her owners happy. So when Ella starts having feelings for the family's son she is sure there's is something wrong with her.
Perfected has a bit of everythng. A love story that wil have you swooning, a strong friends, surprising characters and a little bit of political drama that will have you trapped in this little bubble wishing it never ends.
I honestly can't wait for the next book. (I am sure there will be a next book or I'm gonna die)
Kate has loved writing ever since she was a little girl. She wrote her first novel in fourth grade (the main character was suspiciously similar to herself). As an adult, her essays and short stories have been published in Isotope: A Journal of Literary Nature and Science Writing, Saint Ann's Review, Scissors and Spackle and in a forthcoming issue of Indiana Review. Her first play, (a man enters), co-written with Elaine Jarvik, was produced in 2011 by Salt Lake Acting Co.